Your Internet Explorer is out of date. For the best experience, please use an updated browser.
ZoneAlarm Anti-Ransomware
Protect your business from Ransomware attacks
Clear winner,
second year in a row
PCMag Editor's Choice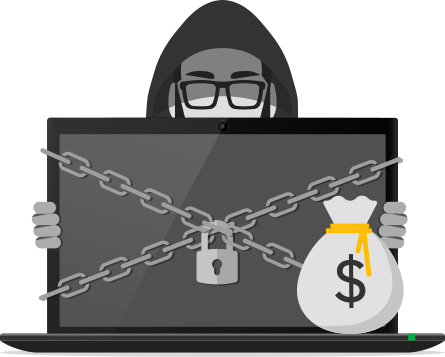 What Is Ransomware?
Ransomware is a type of malicious software that prevents the victims from accessing their documents, pictures, databases and other files by encrypting them and demanding a ransom to decrypt them back. A deadline is assigned for the ransom payment, and if the deadline passes, the ransom demand doubles or files are permanently locked. Ransomware is an ever-increasing threat worldwide, claiming a new victim every 10 seconds.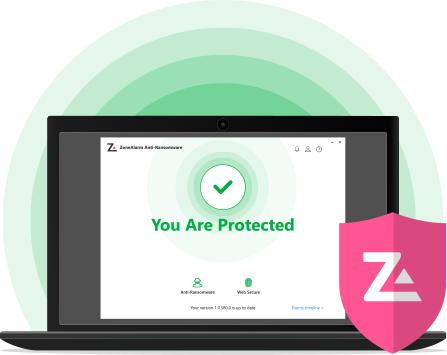 How We Protect You
ZoneAlarm Anti-Ransomware analyzes all suspicious activities on your PC. It detects Ransomware attacks, blocks them and immediately restores any encrypted files. ZoneAlarm Anti-Ransomware is the result of years of research and development and offers the best Enterprise-Grade protection against Ransomware threats. It is fully compatible with all antivirus solutions.
Product Features
Auto File Restoration
The only anti-ransomware protection that immediately and automatically restores any encrypted files.
File Protection
Detects and blocks Ransomware threats, even those that other PC security solutions don't catch.
PC Shield
Blocks any malicious attempts to lock your PC and ensures you always have access to it.
How Ransomware Started
One of the first modern Ransomware attacks was detected over a decade ago in Russia. It moved files on the attacked PC to a password-protected ZIP folder, and deleted the originals. To recover their files, victims had to transfer $300 to an E-Gold account that can be considered an early type of BitCoin.
Types of Ransomwares
While they generally rely on similar tactics to take advantage of users and hold your data hostage, there are different families of Ransomwares. The most common ones are:
Bad Rabbit
- Russia and Ukraine first reported the ransomware attack, which follows a similar pattern to WannaCry and Petya by encrypting the user's file tables and then demands a Bitcoin payment to decrypt them. It was distributed via a fake Flash software installer, which allegedly arrives as a pop-up from a legitimate Russian news site. Once run, the pop-up leads to a compromised site, which in turn downloads an executable dropper.
Petya
– The ransomware targets Microsoft Windows-based systems, infecting the master boot record to execute a payload that encrypts a hard drive's file system table and prevents Windows from booting. It subsequently demands that the user make a payment in Bitcoin in order to regain access to the system. There are several variants of Petya, including the one dubbed NotPetya.
WannaCry
- Using an exploit vector named EternalBlue, which was leaked from the U.S. National Security Agency, the ransomware attack, unprecedented in scale, infected more than 230,000 computers by taking advantage of an unpatched Microsoft Windows vulnerability. It reached over 150 countries, using 20 different languages to demand money from users via Bitcoin cryptocurrency.
Locky
- First seen arriving as a macro in a Word document, and then spotted being spread via Adobe Flash and Windows Kernel Exploits. Locky ransomware is known for deleting shadow copies of files to make local backups useless.
Cryptowall
- Its latest version is known for encrypting also the names of the encrypted files making it harder for the victim to know what has been encrypted. It is spread in many ways such as attachments in phishing emails from financial institutions. The ransom demanded is usually $700, doubling after about a week to $1400.
Cerber
- The world's biggest ransomware-as-a-service scheme, it isis a franchise scheme, with its developer recruiting affiliates who spread the malware for a cut of the profits. Cerber was used in an attack that potentially exposed millions of Microsoft Office 365 users to the infection.
Compatibility Requirements
Microsoft® Windows® (7 SP1, 8.1+, 10)
32 or 64-bit, 2 GB RAM
2 GHz or faster processor
1.2GB of available hard-disk space
Periodic Internet Connection
Windows 7 SP1 (must have SHA-2 support).
Windows 8.1+
Windows 10
ZoneAlarm Anti-Ransomware is compatible with all other antivirus, firewall and PC security software.
Trusted by nearly 100 Million users worldwide